Are you trying to decide whether you should rent or buy your next water heater with the intention of minimizing costs and maximizing efficiency? Today, we'll take a look at the benefits of renting versus buying, ensuring that you make the best choice for you and your family's lifestyle. With 5 clear benefits, your decision will be a no-brainer. 
Annual Cost
Cost is an important factor to consider when deciding to buy or rent a water heater. The average cost of purchasing and installing a new water heater can range anywhere from $1200- $1500. Ouch. This number doesn't include service and maintenance fees which can average $100 per service.
On the off chance that your purchased water heater leaks, you may have to call a plumber to come in and change your water heater. The moment that the plumber shows up you may be looking at a bill that could run anywhere from $100 – $400 depending on the time and severity of the issue. Mentally picturing all the dollar signs? We get it.
At Reliance Heath, our water heaters are rented annually. When you choose to rent a water heater instead of buying one, you are agreeing to an annual fixed price, with no hidden charges or surprises. We will provide you with a recommendation that is tailored specifically to your personal needs. We are able to determine this by factoring in the size of your home and the number of occupants. Based on this information, we will install the Bradford White water heater that is best suited for your lifestyle. Our free-of-charge service includes a 12 point service inspection to ensure that your new water heater is running efficiently. Say goodbye to the daunting question: "how much is this going to cost me?"
Free Maintenance
We've touched on the steep maintenance fees that can rack up (often at the most inconvenient times) when you own your water heater. We understand that these unexpected problems can throw a wrench in your life and leave your wallet feeling much lighter than anticipated. When you rent a water heater through Reliance Heath, there are NO additional costs to service your water heater. We provide routine maintenance-free of charge to all of our customers, prolonging its overall efficiency and lifespan. 
Having an issue with your water heater? We'll be out within a day to assess the problem and provide a resolution. Renting is ultimately the contingency plan that buying will never be able to provide you with.
Reliable Product Line
Although it may seem insignificant at times, hot water provides you with not only practical uses but relaxation and memories that shape the way you live your life. It's the well-deserved bath after a long day and the teachable moments of washing the dishes with your children.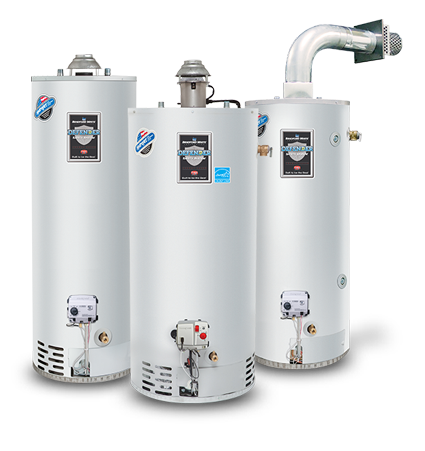 At Reliance Heath, we recognize the importance of this and that's why we use only the best commercial and residential brand available. Our highly trained technicians trust Bradford White Water Heaters. Their large selection of gas, electric, and power vented water heaters provide our customers with: 
Quality: Never worry if you're going to run out of hot water again. Bradford White water heaters are built to last. We've trusted their brand for years and our customers have continued to have hot water, year after year.
Safety: Bradford White products are designed with the highest level of safety. Their well-designed and engineered safety valves provide you with peace of mind.
The water heater brand and service that you choose should be able to provide you with effective and efficient hot water solutions. Bradford White and Reliance Heath will deliver just that. 
Ability to Upgrade
Are you seeing a significant increase in hot water due to additional occupants within your home or a number of other factors? No problem. When you rent, you have the ability to upgrade your water heater to the size that's going to deliver the hot water that you require, 365 days of the year. Our team of trained technicians will assess your home and provide you with the size and type of water heater that best fits your unique needs.
Peace of Mind 
Finally, the last and most comforting reason that you should rent a water heater is for peace of mind. If an issue ever arises, knowing that the team at Reliance Heath is just one quick phone call away can make a world of difference. We're always here and available to answer any of your questions or concerns, free of charge. 
The Decision Is Yours 
At Reliance Heath Water Heater Rentals, we strongly believe in the quality of our products and services, and you should too. Have questions? We'd love to get in touch. Call Reliance Heath to learn more.